We asked for aerial support, and the Dragons answered! Dragon Shield will sponsor our Kotei in Nuremberg with special card sleeves. Read on to find out more!
We value the cards that we play (especially the EL ones 😉 ), so they naturally need protection. In addition, cards have to be in opaque sleeves for tournaments. Therefore, it only seems natural to protect them with sleeves, and Dragon Shield are among the best. They provided us with five vouchers for their new Sleeve Crafter, a tool that allows you to upload any image you like and convert it into card sleeves.
We approached one of our artists, Thulsa Doom, to come up with a design for both conflict and dynasty deck sleeves. You can see them in the header image of this blog, but I'd also like to show you how they look in real life.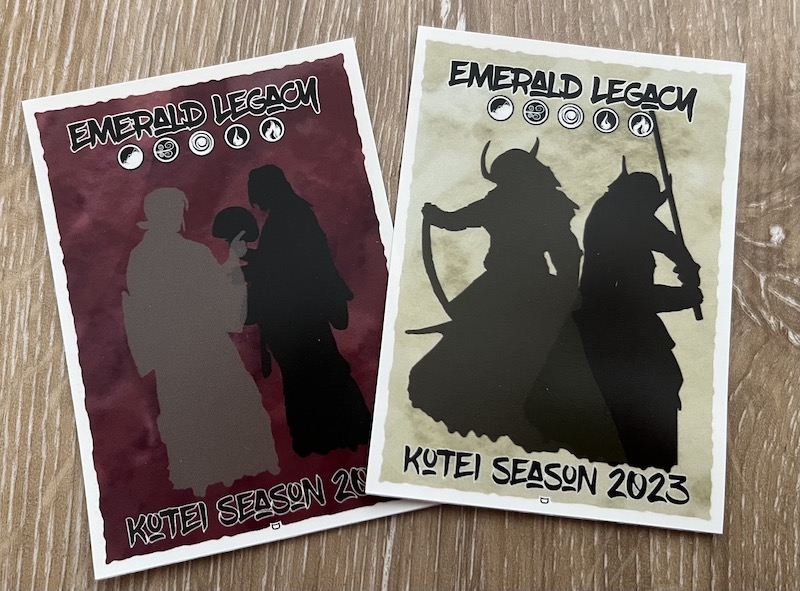 We think they look absolutely amazing, and the quality is really good. We will reward the finalists of the top cut of the main tournament as well as of the Tournament of the Second Chance with a pack of 45 sleeves for both conflict deck and dynasty deck.
Only four weeks left until the Kotei, we can't wait to meet you all! Still undecided if you should come? Check our announcement post for all the juicy rewards and then sign up!