Hey everyone, I'm super excited to finally confirm the Kotei for Nuremberg! Read on to find out about prizes, dates, and more!
Location and Dates
The Kotei in Nuremberg will take place on June 24 and 25, and we will start at 10 am local time on each day (if there are more than 64 players, we might start earlier 😉 ). Go and block that date in your calendar. You don't want to miss this. Registration for the event will start on January 31, 2023! There will be a separate blog entry for this.
We will be playing our tournament at Finyas Taverne im Lutzgarten, a very cool location (I was there this week to see if it fits our purpose). They are a medieval themed tavern, with nice stone mugs, beer and mead, and fair prices. If the Kami will allow it, we will also have a barbecue there. So we will have an endless supply of drinks, and food for lunch and dinner.
The address is Großreuther Straße 113, 90425 Nuremberg (Germany). It's pretty close to the Airport (about 20-30 minutes walk or the same time with public transport), relatively close to the central station (25 minutes public transport + walking), it has a hotel around the corner (about 10-15 minutes walk), and you can be in the historic city of Nuremberg with public transport in 15 minutes. There is a parking site right next to the tavern, so you can also come with your car if you prefer.
There surely is a hitch somewhere, right?
Yes, unfortunately, there is. Two, actually.
We need a minimum participation of 40 people. Otherwise, it's doesn't pay off for the host. We do not have to pay them any fee, so your overall entrance fee will be lower (see below, no pun intended), but we need to be at least 40 people who eat and drink there. So I hope we will have enough registrations. We can easily host up to 100 people, by the way, so go and tell your friends, (former) play group, everyone you know who played the game, so that they might come as well; if not for serious competition at the event, at least for the people, the fun, and the beautiful stuff (read on).
Second, we do need charge you with an entrance fee. We're going to provide a batch of rewards for (hopefully) everyone, and unfortunately we do not have a company that earns a living with it at our backs. So to cover all costs, you will have to pay 15€ in advance. We will also not be able to reimburse that fee should you not be able to attend, since we do need to order all the stuff in advance. Thank you for your understanding. Should we have some money left (and we will tell you that, I promise), we let you decide what to do with it: Donate it for charity, pay everyone a part of it back, or whatever idea you will have.
Alright, enough with the downsides, where's the happy part?
Off to Pastures New
You might already have marvelled at the beautiful header image of this post. Let me tell you more about it. We asked Jérémie Morán whether he'd be up to design an image for us, that will only be used for a playmat. We wanted it to depict a moment that's most important for our timeframe so far. And, as always, he delivered.
It is the moment when the fog parts and the Empress sees the coast of Sanctuary for the first time, led by the mystical dragon under water. But let me show you the image in full glory: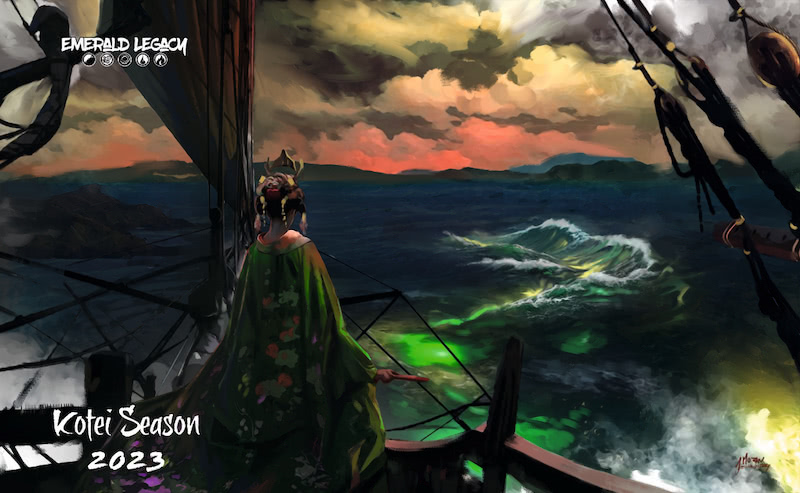 You can get your hands on this beautiful playmat at the Kotei in Nuremberg! You will have to pay for it, though, like you had to for the playmats at FFG Koteis in the end. It's completely optional and is supposed to be a participation playmat. I'm definitely going to get one. I cannot tell you the final price for it (I'm awaiting the response of the company that will print them for us), but I can assure you this: The more people order, the cheaper it will get. The regular price is about 30€.
I heard you like previews, so here's another one of our provinces that will be given out to everyone who qualifies for the top cut as well as to everyone who finishes best of their clan but does not qualify for the top cut.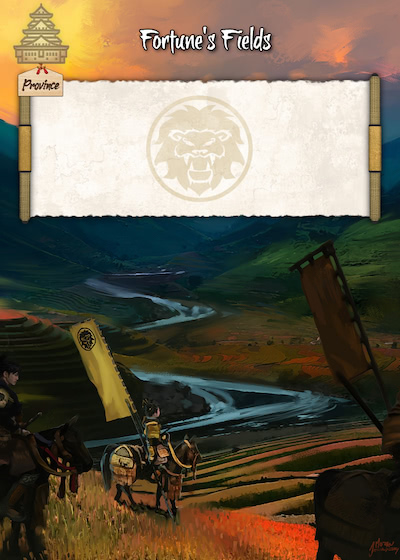 Honouring the Best of the Best
We also have a special reward for everyone who overall finishes best of clan at the tournament and earns the title "Hatamoto". I personally am a huge fan of the Hatamoto playmats, so it was only natural to me to also have them as rewards.
Each playmat features an artwork of Jérémie Morán that you can already find on our cards. I hope you're as happy with them as I am. Have a look!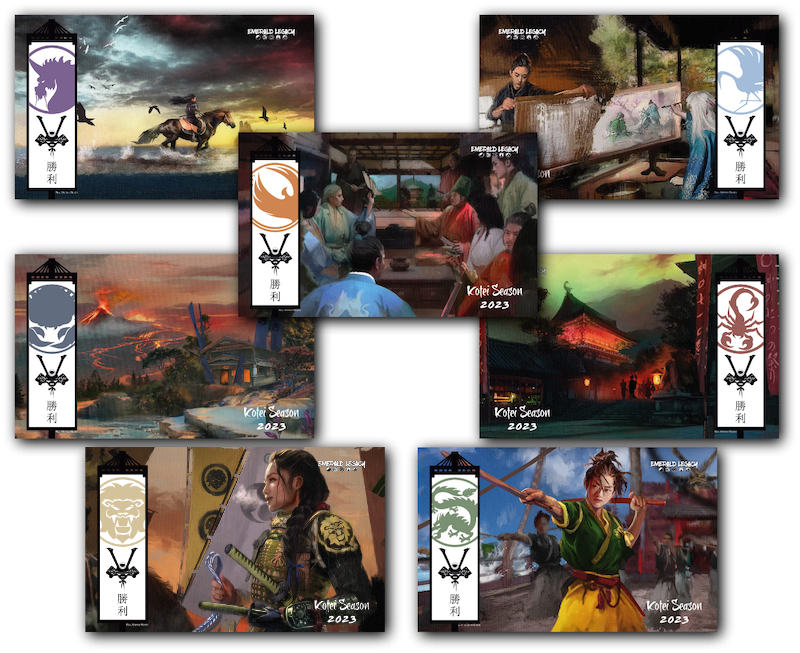 The Hatamoto logo as well as the flag on the sides was designed by our artist Thulsa Doom. You might see this particular logo on other (future) prizes as well.
We will also try to have a separate Hatamoto area at our location, where current Hatamotos will reside. 🙂
For the Community
This is an event created by passionate fans of the game, for you, for the community. So we do have some more for you.
There will be even more prizes, but we can't show you any of them yet.
There will be prizes for you, even just for participating.
We will have a side event on Sunday for those of you who do not make the top cut and don't want to watch the others – including prize support.
If many of you arrive on Friday already (I hope so!), I will organise a get together, to get to know everyone, have a great time, and maybe even checkout the location already!
If you do not have our cards yet, I will bring packs of both Through the Mists and Restoration of Balance, so that you can complete your deck and compete.
Proxies of our cards are explicitly allowed! If you do not want to or cannot buy our cards, no problem at all!
If you need help with finding a place to stay in Nuremberg, get in touch! Send me an email or a direct message on Discord. We will find a place to stay for everyone. There are a lot of Air B'n'B offers for Nuremberg, too.
If you need help with funding, because you desperately want to come but cannot afford it, please also get in touch. We will see what we can do to help you.
And that's it for today. I hope you like what you saw, and I do hope to see you in Nuremberg for the Kotei! If you have any feedback, questions, or even criticism, please let us know here as a comment, on discord, reddit, via mail or via direct message. Until next time!