Welcome to our new Behind the Art series! We want to introduce some of our artists to you and are going to interview a few of them. Today's guest is Thulsa Doom, and he even brought a little present! Read on to find out more.
Hey there, Thulsa, tell us something about yourself: What's your relationship with Legend of the Five Rings, and how did you end up at Emerald Legacy?
Hello all! I was introduced to the original L5R game around 1999-2000. While the game's mechanics intrigued me, it was the captivating setting and lore that truly drew me in. I was mostly playing minor clans (primarily Toturi's Army and occasionally Naga or Shadowlands), and remained active until around 2004 or so. After that, I did not come any close to anything L5R-related until I found out about the L5R LCG during summer 2020 (yay, I got late to the party!). When it comes to contributing to the EL team, I have always had a thing for drawing since I was a kid. And during the pandemic, I picked up this hobby again. Then, in September 2020, I heard that the EL team needed illustrators, so I thought, why not give it a shot? At that time, only two EL cards had art, and I was not sure what they were looking for, especially since I mostly did black and white illustrations. But—unless it involves bid dials—I love a good challenge, and being a part of this project is something I am super enthusiastic about!
When you look at the (rather long) list of card artworks (26!) you designed, which one is the one you like the most, and why?
I would say probably the new version of Togashi Tsurumi (editor's note: read on!). I just like the palette and how the whole atmosphere feels. It was with this card where I adopted a painting style (that I later used in Kinki, Kuro, and Mantis Raider) I intend to carry on with.
In my opinion—and I am not alone with it—you really developed your own style and improved a lot over time. Did you take any art classes? What would you say was your biggest influence or motivation to work so hard on your skills?
First off, thanks! It has been quite a journey, and there is definitely a long road ahead. Since I hopped on board with EL, I have been trying to find my own artistic style, experimenting with different techniques and drawing inspiration from people I have encountered along the way, including some awesome folks in the EL team like Naurel Wood and Jérémie Morán, who have shared some very helpful advice. I had a more or less decent grasp of drawing, but when it came to colouring illustrations, I was clueless. So each card I worked on became a challenge. Turns out, digital watercolour gave me the results I have been aiming for, as I did with some of the new cards like the new Tsurumi, Kinki or Kuro. Now, as for art classes, nothing too formal. I have dived into loads of articles online and YouTube videos that cover everything from perspective and colouring to software specifics. Recently, I started taking digital art classes on Udemy, which has super helpful stuff!
What tools are you mainly using when you create art? What's your development process for an image? Do you start with a pen and a sheet of paper? All digital?
When I first started creating illustrations for EL, I went old-school with pen and paper for the first nine. Yogo Tadashi, the first one I did, got a touch of watercolor pencils too. But honestly, the results did not look very impressive, so I ended up tweaking the colours digitally on my phone afterwards.
Wait, you coloured and finished Tadashi on your phone? That's crazy!
Yes! The other eight illustrations were all coloured using a mobile app and just my fingertips. It was a bit of a finger-painting nightmare adventure! I think it was not until Empty City Archivist that I went full digital with proper illustration software and a drawing tablet. Ever since then, I have been trying to get better at these tools. Right now I am only using Affinity Photo—it is great!
Comparing one of your first pieces of art, Togashi Tsurumi, to your more recent artworks, like Kinki for example, really highlights your development. That's why we prepared something, would you like to say a few words about it?
Looking back at the original illustration of Togashi Tsurumi, I cannot say I am thrilled with it. I like its idea. The execution…not so much. It does not quite measure up to the same level of other illustrations made by the EL artists. I believe Dragon players deserve something better. That is when Ben approached me, asking if I would be up for working on a new version of it, which I promptly accepted. Not only am I satisfied with the results, but it has also become my personal favourite illustration so far.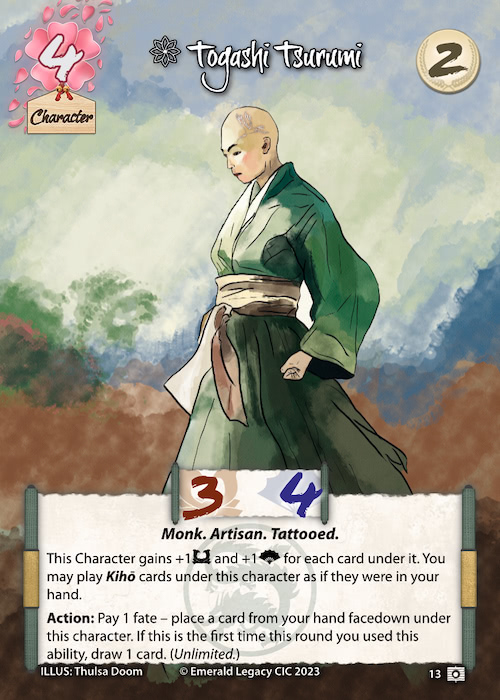 Wow, the new Tsurumi is stunning, look at that amazing tattoo on her head!
Thank you so much for your contributions to this project. Anything you'd like to add to motivate other people to join the project or simply get more into art?
It was my pleasure! If you are a fan of the amazing world that is L5R, this is a great chance to contribute to it. The art team is in need of artists, and we (including me as a player) embrace all sorts of art styles. If you already draw or paint, or if you are simply interested in giving it a try, do not be afraid to jump in. I am definitely not the most experienced or best illustrator out there, but I can tell you that experimenting with different mediums (digital, traditional paint, pencil, etc) might surprise you. You may find that you feel more comfortable with certain mediums compared to others. We can all learn from each other and create some cool stuff!
Thank you for this interview, Thulsa, and your incredible contributions so far. Thulsa Doom created 26 cards to date, that's incredible!
You can already download the new version of Tsurumi from our products page (just checkout the TtM cards and scroll until you find her) and you will find her on EmeraldDB and Jigoku!
Everyone at the Kotei in Nuremberg will receive a regular version as well as the promo version. We will also hand out the promo version to everyone who's attending the Dragon Clan Dinner (or rather, All-Clan Dinner) at GenCon this year!