Yes, it's not card Wednesday yet, but I still want to show a tiny bit of our next set, what we've got planned for this week, and what we will change in our card design (again?!).
First off, I'd like to show you the cover of our upcoming set, Ancient Secrets.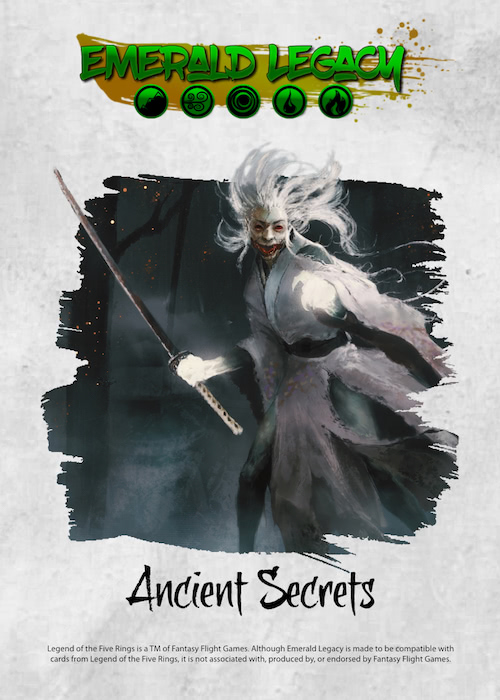 It again features an artwork that will also appear on one of our cards. We thought that this piece of art is fitting for the set name. The artist is Carlos Diaz "Kamyu", who painted Butcher of the Fallen, Battle Mediation, and Sanguine Mastery (among others) for the L5R LCG. He donated three of his incredible artworks to our project, so expect two see (at least) two more of his works in our future sets.
A New Icon
If you look at our cards, you will recognise (or already have) that we always used the set name's abbreviation and a number to identify a card within a set, e.g. TtM047.
We recently acquired a new team member, Jason Carter (e6host on Discord), who created two set icons for Through the Mists and Restoration of Balance, simply to be able to create organisers for his collection. We liked them so much that we asked him to create one for Ancient Secrets. We will update our existing sets to also have the icons at the bottom. Here are the three icons, from left to right Through the Mists, Restoration of Balance, and Ancient Secrets.

Here's how it looks on a card:

How do you like our new pack's cover? What do you think of the icons? Let us know on Facebook or Discord!
Make sure to check back on Wednesday, when we will show you the first 9 cards of Ancient Secrets!